Editor's note: This post is submitted Guest Post….
A healthy and delicious way to enjoy your favorite seafood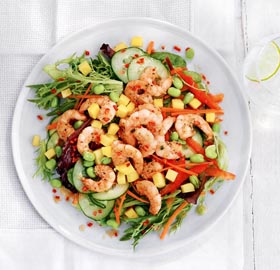 Vietnamese food is not only known for its distinct flavors, but also for its low cholesterol content. This cuisine was regarded by Health Magazine as one of the healthiest in the world. The magazine claims, "This cuisine, prepared the traditional way, relies less on frying and heavy coconut-based sauces for flavor and more on herbs, which makes it lower in calories."
According to FoodByCountry.com, the warm weather and fertile soil of southern Vietnam make it an ideal place to grow a wide variety of fruits, vegetables and livestock, and the vast coastlines of the country make seafood a natural staple in their cuisine. Today, we bring you a recipe that utilizes the best of Vietnamese flavors and the freshest choicest of seafood, while staying at a low calorie count: Vietnamese chili and coriander prawn salad.
Just as with other seafood dishes, this dish is best served with a nice, fruity wine. A classic bottle of Ulmen Sauvignon Blanc may do the trick, as Marks and Spencer describes this wine as "Crisp and refreshing with aromas of lime, grapefruit and gooseberry, this is a deliciously dry and pure Sauvignon Blanc". If you're not a fan of Sauvignon Blanc, the Telegraph has some other good recommendations.
The first thing you need to do is gather your ingredients:
· 2 carrots, peeled and sliced into matchsticks
· 1 red pepper , finely sliced — don't forget to remove the seeds
· 1 large red chili, deseeded and diced
· ½ cucumber, sliced finely into strips
· ½ garlic clove, crushed and peeled
· 1 tbsp brown sugar
· 1 tbsp fish sauce
· 2 tbsp white wine vinegar
· 2 tbsp groundnut or coconut oil
· 280g mangoes, cut into cubes
· 200g frozen broad beans
· 300g king prawns, peeled and deveined (but leave the tails on!)
· 1 splash sweet chili sauce
· 1 handful of fresh coriander, finely chopped
· 2 handfuls of wild rocket leaves
Directions:
1. Marinate the prawns in a mixture of the sweet chili sauce and coriander.
2. Cook the broad beans in boiling water for 3-4 minutes. Afterwards, drain them and wash them in cold water. Drain the water again and peel the beans.
3. Arrange the rocket leaves in a big platter or salad bowl, and add the carrots, cucumber, red pepper and broad beans.
4. Make the dressing by mixing together the chili, garlic, fish sauce, vinegar, sugar, and oil. Mix this together until the sugar has dissolved, and sprinkle it over your salad.
5. By now, the prawns
{ 0 comments }