Roasting Peanuts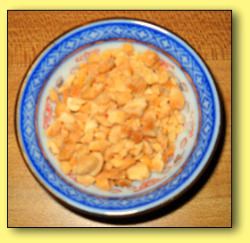 Roasting Peanuts is simple. But, taking the skin off the peanut is time consuming. You don't want to get the peanuts that have the skins removed because these usually have salt or sugar added to them. You don't want to wash the skins off the peanuts because this will remove some of the oil. So, I have no easy way of telling you that you need to sit and peel off the skin from each little individual peanut!
You can download and print a copy of the recipe by clicking on the hyperlink below:
Ingredients
1 cup raw Peanuts, skinned
Directions
Take a cup of raw peanuts, peel the skin of them and put them in a bowl. This can be substituted by roasted peanuts available in the grocery stores; however, they are not flavorful. Try to peel from the flat part of the shell so that you can peel the peanut easier.
Bake the peeled peanuts at 325°F for about 20 minutes. Shake up the peanuts every 10 minutes until roasted slightly brown.
Take out the roasted peanuts from the oven. Place in a food processor and pulse just for a second or two until coarsely chopped. You can use this as a garnish for any dish, soups and many more.