Vietnamese Bean Dipping Sauce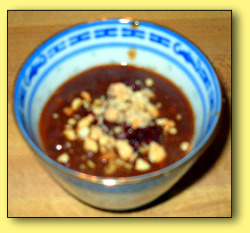 The Vietnamese Bean Dipping Sauce also calls for Spicy Bean Sauce. I use the bottled version of this sauce. Alone it is Spicy, but used with the other ingredients, the flavor is tamed.
You can download a printable version of the recipe by clicking on the hyperlink below:
Ingredients
1/2 cup Water
1/3 cup unsweetened Coconut Milk (you can use canned)
2 tablespoons Rice Vinegar
3 tablespoons Onion, chopped
2 tablespoons Sugar
1 tablespoon Chili Garlic Paste
Roasted Peanuts for garnish
Directions
Add spicy bean sauce, water, coconut milk, rice vinegar, chopped onion and sugar to a food processor. Puree the mixture.
Transfer the mixture in to small sauce pan and cook it for about 5 minutes at medium high heat to thicken the mixture.
Once the mixture thickens and coats the spoon, put the mixture in to a little bowl, add a small amount of chili garlic paste and sprinkle with roasted peanuts.