Light Vietnamese Dipping Sauce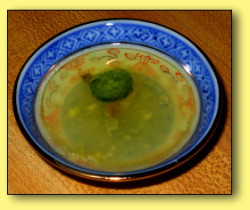 I'm saving my raw shrimp shells and putting them in the freezer just so I can have plenty of this Light Vietnamese Dipping Sauce!  We use it on almost everything!  From steamed white Jasmine rice, to grilled Chicken and Pork.
You really need to try with the raw shrimp shells, it's Delicious!
Click on the hyperlink below to download a printable recipe:
Ingredients
1 cup raw Shrimp Shell
2 cups Water
3 1/2 tablespoons Vietnamese Fish Sauce (nuoc mam nhi grade)
4 tablespoons Sugar
1 teaspoon Rice Vinegar
1 Serrano Chili, cut into thin rings
This is Guinine Brewed Rice Vinegar:
Directions

Place the shrimp shells and water in a small pan. Bring to a boil, the reduce heat and simmer for approximately 5 minutes.
Strain and discard the shrimp shells and set aside to cool.
Measure 1 cup shrimp broth and place in a bowl. Add the fish sauce, sugar, vinegar and chilies and stir well.
This Vietnamese Light Dipping Sauce will keep up to 2 weeks refrigerated in an airtight container.
From My Vietnamese Kitchen,
Ramona Werst