Ginger Sweet Soy Sauce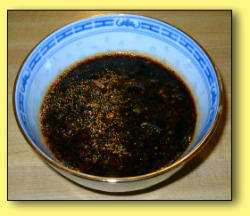 We use Sweet Soy Sauce over steamed Jasmine rice, grilled meats, stir frys, and with vegetables.  For just a little different flavor, we use Ginger Sweet Soy Sauce.
Click on the hyperlink Ginger Sweet Soy Sauce to download a printable copy of the recipe.
2 tablespoons Water
1 tablespoon Ginger, minced
1 Serrano Chili, cut into thin rings
Combine sweet soy sauce, chili garlic paste, water, fresh minced ginger and Serrano chili pepper that are sliced in to thin rings with their seeds in.
Mix everything well and allow the mixture to sit for about 15 minutes.
The Ginger Sweet Soy Sauce is ready to be served!
You will be needing so many little airtight containers, and I have found a way to keep all the lids and containers organized!