Vietnamese Soy Sauces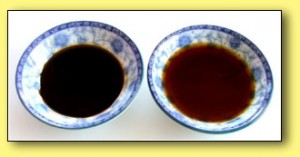 The Vietnamese have a Sweet Soy Sauce that makes many dipping recipes so delicious.  The sweet soy sauce is one of many which make up the abundant and special Vietnamese world of sauces.
My husband frequently says," The Sweet Soy sauce really make a difference in making this so delicious."  So, I spend a lot of time preparing the various sauces and especially Sweet Soy sauce needed to fully enjoy Vietnamese food.
You can purchase these sauces already prepared, but once you prepare them at home, you will not want to get the store bought jars any more!
I know you are thinking, how do I make soy sauce from scratch?  You don't, you still use Kikkoman Soy Sauce as the base.  Try my recipe for Vietnamese Sweet Soy Sauce and you will replace just using regular Soy Sauce.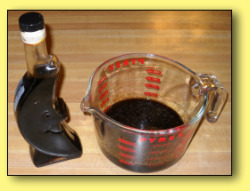 I make up a batch and put it in a jar, store in the refrigerator.  Whenever I would use regular Soy Sauce, I use my Vietnamese Sweet Soy Sauce and the flavors are delicious!
Vietnamese soy sauce is called xì dầu. Good luck on pronouncing it. The traditional soy sauce was made by fermenting soy beans with grains, cultures and yeast. Then it was fermented in the sun in large pots.  Of course making soy sauce commercially, they need to make it all quicker, so they substitute brewing the soy sauce with a soy protein.  I'm sure the brewed soy sauce would have a totally different aroma and flavor.
Soy sauce originated in China and is known for it's salty taste.  It was made with fish and soy beans.  Soy sauce is used in many cuisines from East Asian to Southeast Asian recipes.  Each region brews their soy sauce differently and they all have their own flavor.
Soy sauce is the second most  popular sauce in Vietnam, it can be used for eating soy-cake or vegetables, and is especially suitable for vegetarians, who can't use fish sauce.
From My Vietnamese Kitchen,
I'm Ramona Werst enjoying My family's Vietnamese Sauce Recipes…