Have you ever wondered why meats cooked in a claypot are so moist and juicy?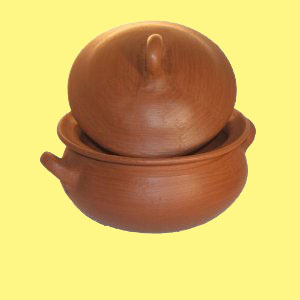 Let's talk about it for a while.  The reason for soaking the claypot before you cook with it, is so the clay absorbs the water and the steam slowly evaporates as you are cooking with it.  The juices are released from the meat and it cooks in it's own juices.
Foods cooked in a claypot are healthier since they are cooked in their own juices instead of losing all the nutrients from boiling in water, and no oil is used.
That was the technical information.  Now the story behind my tasty recipe.
For some unknown reason whenever I go to a Vietnamese restaurant I always want to order Pork in a Claypot over steamed Jasmine Rice.  I love the flavor and I have tried it in different sauces where some include a lot of pepper!
The sauces are what make the Vietnamese dishes so delicious.  I wanted to find the perfect sauce for my version of Vietnamese Pork in a Claypot.  It needed to be rich, flavorful, a little smoky, and sweet all in one.  I found the perfect sauce, Vietnamese Caramelized Sugar Sauce!  You can add more fresh cracked pepper to the Pork in a Claypot recipe, or just enjoy as the recipe as written.
I now had the recipes, but no claypot.  We went to several gourmet cooking stores and they had a few claypots. We even found a claypot to use on the stovetop, but I just couldn't find the right claypot that I was looking for. So I put the recipes on the back burner.
I drag David to garage sales to look for garden pots (we thought we'd never have to buy another garden pot, since we have sold ship containers full of them and kept quite a few).  But I like to find different garden pots and plant my Basils in them.  We stopped at an estate sale and this lady must have really been a good cook.  I saw all her kitchen items and there it was!  The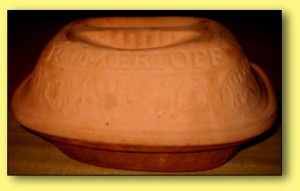 perfect claypot.  It's nothing fancy and it was clean as it could be!  I purchased it for $2.00.  I could have gotten it for $1.00 if I wanted to wait and take the chance to buy it after noon when the prices would be cut in half.  But I decided $2.00 was a good price!  Retail they sell for a lot more. I brought my treasure home, washed in clorox. Soaked and then baked it empty.
This recipe is really an easy recipe to make, but it tastes like you slaved over the stove all day!
Enjoy my Vietnamese Pork in a Claypot with Vietnamese Caramelized Sugar Sauce
You can order your own Claypot and have shipped right to your doorstep!