Steamed Chicken with Ginger Sweet Soy Sauce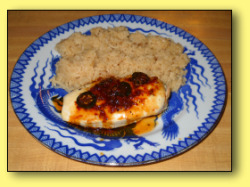 You can use the Ginger Sweet Soy Sauce over grilled chicken too, but the steamed chicken is so juicy.
The chicken stock steamed Jasmine rice is really tasty too.  The Ginger Sweet Soy Sauce can be milder by removing the Serrano Chili Pepper rings before serving.  I leave them on for garnish and don't eat them.
Click on the hyperlink Steamed Chicken with Ginger Sweet Soy Sauce below to download a printable recipe.
Ingredients
4 boneless Chicken breasts
2 cups homemade Chicken Stock (or you can use canned Chicken Stock)
1 cup Jasmine Rice
Directions

Using a rice steamer, follow instructions to make 4 cups rice, substituting water with chicken stock. Add the rice into the steamer pot.
Spray the steamer basket with cooking oil and place the chicken breasts in a single layer in the steamer basket. (If you are making more than the basket will hold, you will want to use just the chicken stock to steam the chicken breasts in batches. For your last batch, make sure the liquid level is where it's supposed to be and add the rice so it will cook with your last batch of chicken) Sprinkle chicken breasts with salt, pepper.
Press the setting for white rice and in approximately 15 minutes, lift the steamer basket out and with the rice spatula, stir the rice and check the chicken. You want the chicken to be at 170 F degrees. The rice and the chicken should finish cooking at about the same time, depending on how much rice you are cooking.
If you are not using a rice steamer, you can use a double boiler and bring the chicken stock with the rice to a boil. Place the top part of the double boiler in the pot and turn the heat to simmer. Steaming the rice about 30 or more minutes. Check the chicken at the 15 minute mark and steam until reaches 170 F degrees.

Place the cooked chicken on the plate and spoon the Ginger Sweet Soy Sauce over the top. Serve with the chicken stock steamed rice.