Vietnamese Hoisin Sauce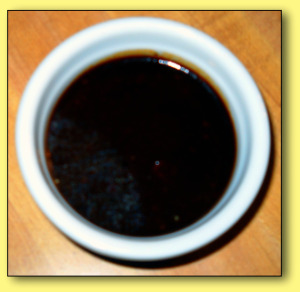 Vietnamese Hoisin Sauce is a sauce that is mostly used as an ingredient in making other sauces or added to dishes with other sauces.
Click on Vietnamese Hoisin Sauce hyperlink below for a printable version of the recipe.
Ingredients
4 tablespoons Sweet Soy Sauce
2 tablespoons Black Bean paste
1 tablespoon Molasses
2 teaspoons white Vinegar
2 teaspoons dark Sesame Seed Oil
1/8 teaspoon Garlic Powder
1/8 teaspoon Rooster Sauce
1/8 teaspoon fresh ground Black Pepper
Directions
Add sweet soy sauce, black bean, molasses, vinegar, garlic powder, sesame seed oil and fresh ground black pepper and mix. It will take some extra time to mix well.
Now Now you need to add rooster sauce or hot chili sauce sparingly to the mixture (it is 100 times hotter than the regular sauce, so make sure that you use it real sparingly).
Measure approximately 20 drops which is 1/8 teaspoon and add it to the mixture. Stir the mixture.
The Vietnamese Hoisin sauce is ready now!