Vietnamese Sweet Soy Sauce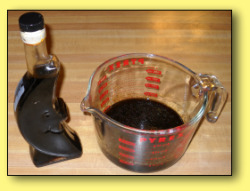 We always have Sweet Soy Sauce in a bottle in the refrigerator and use it on steamed rice, over grilled meats, in stir frys, and with vegetables.
Click on the hyperlink Vietnamese Sweet Soy Sauce to download a printable copy of the recipe.
3 tablespoons Vegetable Oil
3 Garlic cloves, minced
1 Shallot, minced
1/4 teaspoon dried Red Pepper Flakes
1 cup regular Soy Sauce (I use Kikkoman)
1/2 cup dark Soy Sauce
1/4 cup Rice Vinegar
1/2 cup Sugar
1/2 cup Water
Heat up cooking oil.
Add minced shallot and fresh minced garlic to the cooking oil. Fry it for about 30 seconds to 1 minute until the garlic and shallot become golden but not burnt. Once it is all fried, remove the shallot and minced garlic and keep the oil in the pan.
Add the dark soy sauce and regular soy sauce to the oil. Add sesame seed oil, rice vinegar, water, sugar and red pepper flakes; bring the mixture to a boil.  Cook it for about 10 minutes at the simmer until the mixture thickens.
You can keep the Sweet Soy Sauce in an airtight container in the refrigerator.
You will be needing so many little airtight containers, and I have found a way to keep all the lids and containers organized!