I have a cool recipe that I want to try….it's Vietnamese Grilled Shrimp on Sugar Cane.  I've tasted fresh Sugar Cane right out of the field in Hawaii, so this dish really sounded delicious!
The recipe calls for canned Sugar Cane.  You wouldn't think this would be hard to find, because everything comes in cans now days.  Wrong!  I looked everywhere in our town, including at my little Asian Market.  Jason even looked for it when he went to his suppliers, but without finding my canned Sugar Cane.  I looked online and it does exist and we were going to be heading to San Antonio, so I put it on my list.
I Googled Asian Markets and found two.  One was very close, so we decided to give it a try.  Yep, it sure was an Asian Market!  We walked inside and there were a group of men sitting at a table and they all stopped talking to stare at us.  We grabbed a cart and headed down an aisle.  There was a lady stocking shelves and I asked her where to find canned Sugar Cane.  I should have known, she didn't speak English.  She appeared to be Vietnamese and started talking to me, but I couldn't understand her, we just looked at each other and smiled.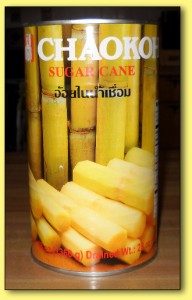 After staring at the shelves, David spotted canned Sugar Cane!
It was a large can, but I'm sure I can freeze it and I don't want to have to come to San Antonio each time I want to make this dish. And I don't want to buy too much, just in case it doesn't turn out.
I guess my other option would be to boil fresh Sugar Cane, but I wasn't sure how cooked it was, so I'd better stick with the canned.
We continued to go up and down the aisles.  This wasn't a very big store, but we took our time, because there were so many interesting ingredients that I could use.
Just around the corner, I spotted Pho Bowls!  We need new Pho Bowls!  I'm really getting into this Vietnamese cooking thing.
There were several different patterns, and some where glass and others were plastic.  I found a small glass Pho Bowl, and David said it was too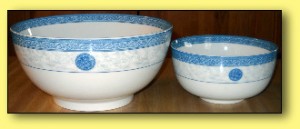 small for him. I told him he could eat 2 bowls, but it's too much trouble to put in all the great ingredients 2 times. hahaha
Then I saw a bowl that would be perfect for David!  You can see the difference in size.  It's too funny, but we purchased both bowls, and we use them for our Pho.
I'm all ready to prepared this Grilled Shrimp on Sugar Cane Recipe for you and I hope you enjoy it.  As with most Vietnamese dishes there are dipping sauces.  The dipping sauce for this recipe is a Bean Dipping Sauce and is garnished with Roasted Peanuts.
Have I mentioned that there are certain steps in my recipes that take some time if you are preparing completely from scratch.  The good news is that with ome of the garnishes and sauces, you can store in airtight containers and use them in other recipes.  This will cut some of the preparation time down on some recipes if you have the garnishes and sauces prepared ahead of time.  Another tip, is you can decide what recipe you want to prepare and go ahead and make the garnish and the sauces ahead of time.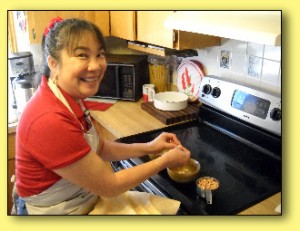 Roasting Peanuts is simple.  But, taking the skin off the peanut is time consuming.  You don't want to get the peanuts that have the skins removed because these usually have salt or sugar added to them.  You don't want to wash the skins off the peanuts because this will remove some of the oil.  So, I have no easy way of telling you that you need to sit and peel off the skin from each little individual peanut!  They are hard to hold and the skin sticks to the peanut.  You need to have a lot of patience and time!  I suggest skinning the whole bag of peanuts watching a movie in an evening.  Just keep an eye on the peanuts, so no one thinks it's popcorn!
I only needed a cup of skinned peanuts and it took me about 1/2 hour to skin these little boogers.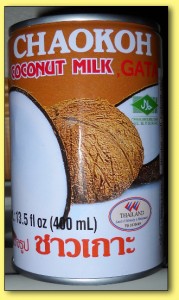 The Bean Dipping Sauce has 1 ingredient that is time consuming too.  Coconut Milk.
I will show you how to make the best tasting coconut milk in a later recipe, and once you make this fresh coconut milk you won't want to be without it.  But for this sauce you can use canned coconut milk.
Make sure you use Chaokoh from Thailand brand, this is the closest to fresh coconut milk.  It has no added sugar.  If you can't find this brand, then you can use another brand as long as it doesn't have any added sugar.
The Vietnamese Bean Dipping Sauce also calls for Spicy Bean Sauce.

I use the bottled version of this sauce.  Alone it is Spicy, but used with the other ingredients, the flavor is tamed.  You don't have to purchase a large bottle, like I did.  You can find in smaller cans.  I like the bottle because I know I'll be using in the future and can close the lid.
Now you are ready to make the Grilled Shrimp on Sugarcane.  I bet you are thinking that you will be placing the shrimp on top of the Sugarcane and grilling it…not!  This is a Vietnamese dish.  You will be making a paste with the shrimp and wrapping it around the Sugarcane, steaming it in the rice steamer, then broiling it in the oven.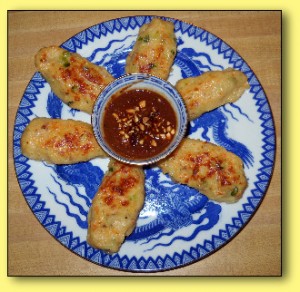 We went to an awful lot of trouble to find the canned Sugarcane, and come to find out, you don't even eat it!  It sweetens the shrimp mixture as you steam and broil it.  Don't get me wrong, even though the dish does not even come close to what you think it should, it's really quite tasty.
Please take a chance and try this recipe.  It's really a Vietnamese treat!
Vietnamese Grilled Shrimp on Sugarcane
From My Vietnamese Kitchen,
I'm Ramona Werst
Enjoying the adventure of tasting new and exciting recipes….