The Beginning of My New Adventure
I'm so excited about my new adventure.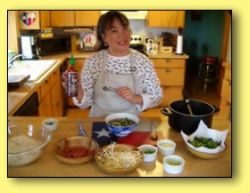 The new adventure is to learn to cook Vietnamese food and share my recipes and cooking escapades with you! I'll post the recipes as I make them and I'll let you know the in's and out's about the recipe.
I will have a subscription membership that will offer really great value on healthy Vietnamese cooking, but that is later on down the line a bit.
In the meantime, enjoy as we learn and cook together………….
I spent the night last night reading my first Vietnamese Cookbook.  It gives a little overview of the Vietnamese Cuisine, and then goes right into some of the necessities you will need in your Vietnamese pantry.  Oh, my, there are items I have never seen before in our grocery store, and I need some special cooking utensils. Hmmm…  I need a Bamboo Steamer, (you could use a regular steamer, but I want to cook as close to the traditional way as possible.   Also, I will need a Mortar and Pestle (you'd laugh if you could see how many times we have to retake a filming because I will slip and say Mortar and Pest-le, not Pessil)  If they didn't want you to pronouce the T, then don't spell it with a T!
I think I know just the specialty store in town, that just might carry these items.
Next, I need some special ingredients.  I plan on making all my sauces and condiments from scratch, but there are some ingredients that my kitchen doesn't have.  We live in a rural town, Mertzon (actually we live on our Sherwood Ranch, right outside of Mertzon) and our little grocer doesn't even have scallions, let alone Fish Sauce!  The closest town is San Angelo, which isn't a city like Dallas or Austin, it's approximately, 100,000 in population.
I read about the different grades of Fish Sauce, there is a premium grade called nuoc mam nhi, and then a second and third pressings called nuoc mam thunong (regular fish sauce) and nuoc mam kho (cooking fish sauce).  Well, I only want to use the best!
Let me explain what fish sauce is and you'll see why:
A local fisherman catches 'ca com', it's a fish that is used for it's flavor and oil content.  You rinse the fish and put into a tank and layer with one-third of the fish weight in salt.  The fish ferment in the brine for four months, then a liquid is collected, drop by drop and then pumped back into the tank.  This process continues for about eight months, then it's siphoned and bottled.  The first extraction is the Primo (Texas talk for the best) or nuoc mam nhi grade.  The second and third pressings are made by adding more brine to the same batch of fish and allowing it to ferment for a much shorter time.  Kinda sounds like a fine wine versus a cheaper wine.
So now you know my first search, to find the cooking utensils and my primo fish sauce!  You can get 2 bottles at a really great price delivered to your door!
I kept reading my cookbook to see what my first recipe would be.  I couldn't just go into town for the starting ingredients, and not be able to fix a meal!  I decided to make a dipping sauce and a recipe to be able to use the dipping sauce.  I am going to make Shrimp Rice Cakes with a Scallion Oil and a Light Vietnamese Dipping Sauce.
Most of the ingredients as you will see in the recipe are common with the exception of the primo fish sauce, OK, I'll try to talk the talk and call it the nuoc mam nhi,  and rice flour.
I have to sleep…but now I'm so hungry!
We get up early and skip our usual morning ritual of coffee in bed and leisurly reading the newspaper.  I'm anxious to find my supplies so I can come home and get cooking!
The specialty store that I had in mind is Eggemeyers in San Angelo.  It's a really fascinating store and David and I can spend a lot of time just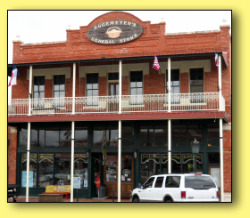 looking at all the different items, from Texas decor, cookware (this is where I found the ultimate cookware that I have to have, Le Creuset, if you are familiar with this, you may not be able to run out and buy a whole set.  One pot can run $300 or more! The store has all kinds of kitchen gadgets, coffee's, food kits, jams and jellies, and they even have a Wine bar.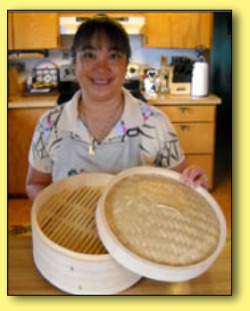 I just knew they would have the bamboo steamer and they did!
Let me explain what a bamboo steamer is and why it's an important part of our Vietnamese Kitchen.  It's of course made of bamboo that is weaved together for the lid.  There are at least 2 compartments with openings in the bottoms to allow the steam to come into the container.  Food is placed in the steamer and cooked by the steam and not put directly in the water.  I was looking for the most traditional way to steam rice, and as I researched, this was the common method.  I'll let you know how my steamed rice turns out.
You can purchase your own Bamboo Steamer without having to search!
I got my first piece of Le Creuset, it is my Mortar and Pestle, it cost $38, but why buy a less expensive one and then have to replace it when I have my whole collection of Le Creuset?
There are always new trends in cookware.  I've been to dinner parties where the hosts (usually your friends) invite you to dinner at their house and they let you know that dinner will be prepared by a friend of theirs.  It's a way to show off fancy waterless pots and pans that are very expensive.  I remember when I was a little girl, my mom bought a set called 'Faberware'.  These were so fancy, but she forgot how they showed her how to use them and she almost burnt down the kitchen!  She gave them to a neighbor and went out and bought a less expensive set of pots and pans that were teflon coated.
Sorry, I got off my subject.
Lets see, the chefs use stainless steel, copper, or they have their own name put on a set of expensive pots and pans. If you look on the bottom they say that they are made in China. Hmmmm…Anyway, David was reading his Facebook and people kept mentioning Le  Creuset.  We found it at Eggemeyers, I have fallen in love with it, and David is going to go broke buying it for me! lol  It's VERY expensive!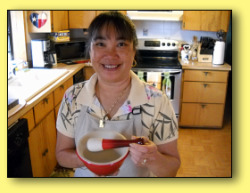 Le Creuset is made in France.  They manufacture the cast iron pot and then double coat it with enamel.  David laughed because he said that he'd been cooking outside with cast iron since before I was born!  The benefits of cooking with cast iron is that it eliminates the hot spots and allows the heat to be distributed more evenly.  Then with the enamel coating, you can marinate in it in the refrigerator, it's dishwasher safe, and comes in different colors than just 'cast iron black'.
The Mortar and Pestle is my first piece of Le Creuset.  I figured since the marble and stone ones cost just about the same, why not start my Le Creuset set.  I told David this will actually save him money in the long run, because he won't have to buy it later to replace the one that he was going to buy me now.  Sounded good to me.
The Mortar and Pestle is so useful.  I've never used one before, but how did I cook without it?  The Vietnamese use it to pulverize herbs, spices and other ingredients.  For some reason the pounding and smashing creates a more intense flavor than chopping or using a food possessor, so this is a must have tool.  Here goes a new cooking experience.
Hope you are enjoying learning the healthy cooking and fresh ingredients used in Vietnamese cooking.  I'll really "spill the beans" on the recipes and cooking methods.  It's fun, healthy, and interesting.
From my Vietnamese Kitchen,
Back to my roots cooking…