A Good Vietnamese Soup Starts with the Broth
Traditional Vietnamese foods are always simple but very precise, and Vietnamese soups are no exception. Vietnamese soups are not as sophisticated or even as well-done as Chinese soups. Vietnamese soups share the features of the rest of the Vietnamese cuisine: simple, easy to cook, delicious and good for your health.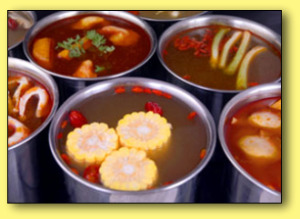 The main ingredient, or the soul of the Vietnamese soups, is the consommé or broth. Get the broth right and you are well on your way to success. The consommé must be well-cooked for a long time with pork bone, been bone or seafood, to let all the tender taste and nutrients from the bone dissolve in the consomé. We can say that if the soups taste good or not, is mostly depend on the way we cook the consomé. The ingredients must be fresh, delicious, and well-prepared. The time of boiling must be long enough, but not too long as the boiled water will become sour and muddy. When boiling, bubbly froth should be fished out to keep the water clear and eye-catching. Some special ingredients can be used to add up the aroma and flavor, such as anise, cinnamon, cardamom, ginger, spring onion bulb, mushrooms…
I love the Vietnamese Soups, and I have mastered Vietnamese Pho, which I will be talking about in a section all it's own.  Some of the Soups are unusual and exotic.
Here are some pictures of different Vietnamese Soups: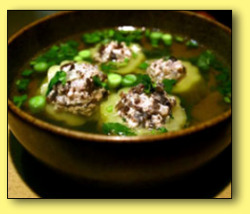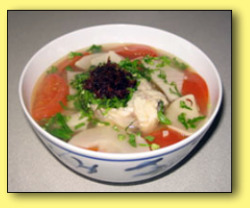 Vietnamese Soups are so delicious!
From My Vietnamese Kitchen,
Ramona Werst
Learning how wonderful and healthy Vietnamese Soups are….