Vietnamese Peanut Sauce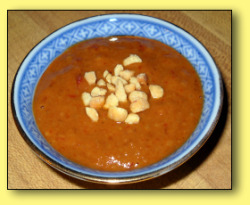 This is one of my favorite sauces.
I use mainly for my Vietnamese Spring Rolls, but also like to use with eggrolls and grilled meats.
Click on Vietnamese Peanut Sauce hyperlink below for a printable version of this recipe.
Ingredients
1/2 cup fresh ground Natural Peanut Butter
1 tablespoon granulated Sugar
4 tablespoons homemade Hoisin Sauce
1 tablespoon homemade Sweet Soy Sauce
1 small Garlic clove, mashed to a paste
2 teaspoons homemade Chili-Garlic Paste
1 tablespoon dark Sesame Oil
2 small Limes, juice
Water (thin to desired texture)
Directions
Add fresh ground peanut butter, chili garlic paste, clove paste, sugar, hoisin sauce, soy sauce, sesame seed oil and some fresh squeezed lime juice to a bowl. Stir the mixture well.
Add water to thin. Texture is to your preference.
The Vietnamese Peanut Sauce is ready now!