Vietnamese Caramelized Sugar Sauce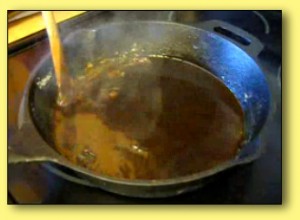 This is one of my favorite Vietnamese Sauces for grilled meats, and claypot recipes.  The delicious sauce adds a sweet, smoky flavor.
You want to make sure that you don't burn the sugar or you will have a burnt sauce flavor!
Tip:  To avoid burning and overcooking the sugar, bring the water to a boil before starting the recipe.
Click on the hyperlink for a downloadable, printable version of the recipe:
Ingredients
1/2 cup Sugar
1/3 cup boiling water
Directions
Add white sugar in a heavy bottomed pot. Cook it at medium high heat for about 1 to 2 minutes.
Cook the sugar until it is melted and then turning in to caramel color. Once it turns to caramel color, turn of the heat.
Pour the boiling water in to the caramelized sugar. Be very careful when pouring the water into the sugar, the hot mixture can splatter.
Make sure that the heat is turned off. Stir the sugar mixture until the sugar is completely dissolved. The caramelized sugar sauce you have made should be thick and rich in color.
The Vietnamese Caramelized Sugar Sauce is ready now!