"BANH CHUNG" AND "BANH DAY"
"Banh chung" and "Banh day" might be the most formal and sacred offering to worship ancestors and showing the respect with one's parents on the occasion of the Tet holiday. "Banh chung" has an eye-catching and is usually wrapped up into square shape represents the earth and the Yin. "Banh day" usually has white round shape, referring to the sky and the Yang. "Banh chung" is used to give tribute to mother, while "Banh day" typically is for the father.
"Banh chung" or "square sticky rice cake"
"Banh day" or "round sticky rice cake"
Main ingredients for "banh chung" is sticky rice and chick-pea, which are carefully chosen from the best produce of spring crops. The filling is made from pork, usually side pork, which is the combination of fat and lean, and deliver a charming fatty taste. Sticky rice is carefully washed, soaked in salt water in about 12 to 14 hours depending on the type of sticky rice and on the weather, then taken out and dried. Chick-pea is smashed up into tiny pieces and soaked in warm water, then dried out after being removed all peelings. Pork is also carefully washed and dried out, cut up into small slices then cleverly mixed with spices, which normally are black pepper and spring onions.
Wrapping up "banh chung"
After preparation, "Banh chung" is wrapped up into a squared-shape with phryniums, which the innermost leaf has to turn its green side inwards to color the sticky rice, and the outermost leaf turn its face outwards, creating an eye-catching cake. Put sticky rice and chick-pea on the phrynium, followed by pork in the center to made up the filling. Another handful of chick-pea is used to finely scatter on the pork. Then a bowl of sticky rice is used to cover the pork and filling. Afterwards, all are wrapped up into a squared shape with phryniums, and then well-tighten with bamboo strings. "Banh chung" is then boiled for 10 to 12 hours in a row. Packaging and boiling "Banh chung", as well as gathering and watching out together for the boiling pot has become a traditional custom of every Vietnamese family on the occasion of Tet.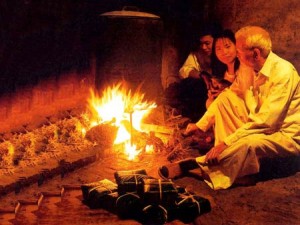 Watching out for the boiling pot together
"Banh giay" are usually made of boiled and finely pounded sticky rice, and the fillings may be from chick-pea and coconut strings, sweet or salty. Fine sticky rice was chosen, then boiled and well-pounded in a mortar to until the sticky rice is done exactly to a turn.  This is a strenuous work only for strong man, because boiled sticky rice is extremely glutinous and firm, even the raising of the pestle isn't simple at all.  Usually, a little of fat is used to avoid the glutinosity. The most popular type of "banh giay" is without filling, as the same size as a palm, and in round shape, which the diameter is about 1 to 2 cm. Every two "banh giay" make a pair to eat, with a slice of lean pork paste, beef sausage or roasted cinnamon pork inside.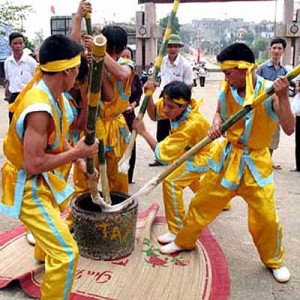 Pounding "banh giay" contest
"Banh chung" and "banh day" are unique and creative dishes of Vietnamese cooking, and deeply highlight ethnic character both in their ingredients and cooking ways.  Every nation has it own unique traditional food but it is rarely to see such a delicious and interesting food, that closely connect with the Vietnamese long-standing culture of rice, , like Vietnamese "banh chung" and "banh giay".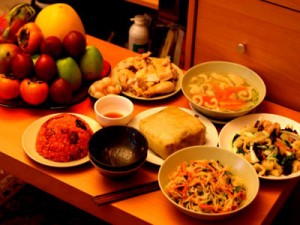 A meal on the first day of the Lunar New Year, "banh chung" is in the center