Vietnamese Chicken with Basil, over Crispy Rice Noodles
A light, but packed with flavor, delicious Vietnamese dish!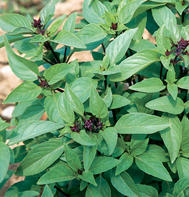 I love cooking with fresh Basil, and I am currently growing Vietnamese Hun Que Basil.  I have been in search of Lang Basil, which was from the Lang Village in Vietnam.  The village no longer grows basil, but now is an industrial village.
Vietnamese Hun Que Basil is very close to the taste of the Lang Basil.
You'll notice that Vietnamese Hun Que Basil is very similar to Thai Basil in looks and flavor too.
This recipe really highlights the basil flavor, but it's not over powering.  I added sautéed fresh yellow squash and zucchini and Crispy Rice Noodles to make this a complete dish.
Vietnamese Chicken with Basil, over Crispy Rice Noodles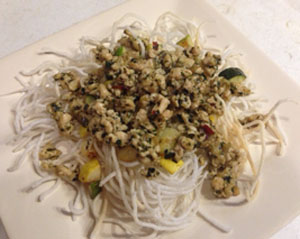 Ingredients
Crispy Rice Noodles
Rice Noodles (I used 1 of the sections in the package)
1 cup Peanut Oil
Sautéed Squash and Zucchini
1 medium fresh Yellow Squash, diced
1 medium fresh Zucchini, diced
1 small Sweet Onion, diced
3 tablespoons Butter
Basil Chicken
1 cup fresh Vietnamese Hun Que Basil leaves (can replace with Sweet Basil or Thai Basil)
2 Red Thai Chiles, stems and seeds removed
1 Garlic clove, peeled
2 1/2 teaspoons Fish Sauce, divided
1 1/2 teaspoon Oyster Sauce
1 1/2 teaspoon Sugar
1/2 teaspoon Distilled White Vinegar
1 (8 oz) boneless, skinless Chicken Breast, trimmed and cut into 2″ pieces
1 Shallot, sliced thin
1 tablespoon Peanut Oil
Red Pepper Flakes
Directions
In a cast iron skillet heat the peanut oil to 350F degrees.  Add the Rice Noodles and quickly turn over.  They will puff up very quickly.  Don't let them turn brown…remove and place in a bowl and set aside.
Add the basil, Thai chiles, and garlic in a food processor and pulse until finely chopped.  Transfer 1 1/2 teaspoons of the basil mixture to a bowl and stir in 1 1/2 teaspoons of the fish sauce, oyster sauce, sugar, and vinegar; set aside.  Add the remaining basil mixture to a skillet.
Add chicken and remaining fish sauce in a food processor and pulse until meat is coarsely chopped.  Transfer chicken to a bowl and refrigerate for 15 minutes.
Meanwhile in a new skillet, melt butter for squash.  Add the squash, zucchini and onion and sauté until some of the edges are golden brown over medium heat.
Add the shallot and oil to the basil mixture that is in the separate skillet.  Cook over medium-low heat, stirring constantly until the shallot is golden brown.
Add chicken to the skillet and increase heat to medium.  Cook, breaking up chicken with wooden spoon, until only traces of pink remain.  Add reserved basil-fish sauce mixture and cook, stirring constantly, until chicken is no longer pink.  Add a pinch of red pepper flakes to taste.
Place some of the Crispy Rice Noodles on a plate.  Spoon some squash on top of the noodles.  Spoon some of the Chicken mixture on top of the squash and serve.