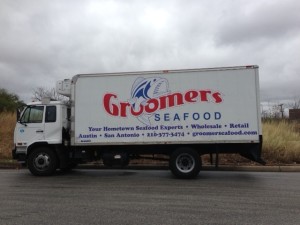 I have found the most wonderful Seafood Market in Texas!!! The Highest Quality Fresh Seafood in Texas!  Yes, a fresh seafood company located right in the heart of South Texas. From our early years of commercial fishing and shrimping the Gulf of Mexico out of Port Isabel, Texas; to the present day as San Antonio's largest fresh fish and fresh seafood wholesale and retail processor, we take pride in supplying connoisseurs who demand the best and freshest seafood.
This is a delicious recipe that I created using fresh East Coast Countneck Clams from Groomer Seafood in San Antonio. Fresh Ginger, homemade Sweet Soy Sauce, and homemade Chicken Stock.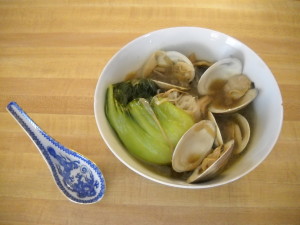 Ingredients
2 tablespoons Coconut Oil
3 tablespoons Ginger, minced
4 cloves fresh Garlic, minced
3 tablespoons Shallots, minced
1/4 cup Sweet Soy Sauce
4 cups Chicken Broth
1 cup Rose Wine
2 pounds Clams, rinsed and scrubbed
4 small fresh baby Bok Choy
1/2 cup Bamboo Shoots, rehydrated and cut into strips
1/2 cup sliced fresh Mushrooms
2 tablespoons Fish Sauce
frozen Rice Noodles
Directions
The night before hydrate the dried bamboo shoots, by adding water to cover bamboo shoots. Several times change the water, this will help take out the bitterness. See my video on hydrating Bamboo Shoots.
Make the homemade chicken broth the night before also, strain the broth, discarding the vegetables. Chill overnight and discard the fat.
Once the bamboo shoots have soaked overnight, add bamboo shoots and fresh water into a pot. Boil at a simmering boil for a couple hours changing the water 2 times. Drain the bamboo shoots and cut the strips into approximately 1 1/2 to 2″ pieces and set aside.
Heat the coconut oil in a medium pot over medium heat. Add the ginger, shallots and garlic and cook for 2 minutes until the garlic is fragrant but not burned. Add Rose Wine and let reduce 1/3.
Stir in the sweet soy sauce and fish sauce, followed by the chicken broth. When the broth begins to gently simmer. Add the bok choy, mushrooms and bamboo shoots and simmer uncovered for approximately 5 minutes.
Add the clams. Cover the pot and cook for 10 minutes, stirring occasionally until clams have opened. Discard any closed clams.
Transfer the clams over the rice noodles and vegetables, to a large serving bowl and spoon broth over clams.