This recipe is a special treat…not only is it a really delicious Hot and Sour Soup, but when you add Ruby Jewel Sweet Red Corn, it's out of this world.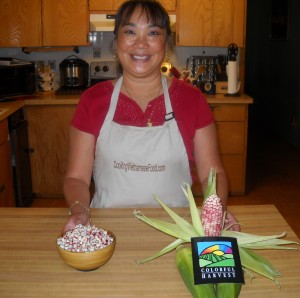 The story of this fantastic corn is a story in itself and I'll write about it soon. Right now I want to get to you this recipe, because I know you're going to want to enjoy it with the Ruby Jewel Sweet Red Corn is still in season.
This is a long recipe, but it's really not that difficult.  I use everything made from scratch and if you do to, when you taste this soup, you will see why!
You can download and print out the full recipe, just click on the recipe title hyperlink!
Ingredients
Chicken Broth
4 Chicken Leg Quarters or 2 Chicken Breasts
1/2 cup fresh Basil leaves, chopped
1 or 2 small sprigs of fresh Rosemary, minced
3 tablespoon fresh Oregano, chopped
2 small Garlic cloves, minced
1 -2 fresh Jalapenos, minced (if you are using hot Jalapenos, use only 1)
Salt and Pepper to taste
1 small bunch of Scallions or little Green Onions, sliced into rings (using white and some of green part)
Hot & Sour Soup
2 ounces Boneless Pork Loin
1/3 teaspoon Cornstarch
1/3 teaspoon Kosher Salt
1/3 teaspoon Soy Sauce
1 cup dried Black Fungus (Mushrooms)
2 ounces Tofu
2 1/2 cups Chicken Broth (Using above recipe)
2 tablespoon White Vinegar
2 teaspoons Soy Sauce
2/3 teaspoons Kosher Salt
1 cup Bamboo Shoots, cut up
4 teaspoons Cornstarch
4 teaspoons cold Water
1/4 teaspoons White Pepper
2 Eggs, slightly beaten
1/4 cup Green Onions, chopped
2 teaspoons Rooster Sauce
1/2 teaspoon Toasted Sesame oil
2 cups Ruby Jewel Sweet Red Corn
Directions
Chicken Broth
Note: I make the day before so I can refrigerate overnight to allow the fat to harden. Makes it easier to remove.
Place the chicken legs in a large pot and cover with water and bring to a boil. Make sure that that the chicken pieces are completely covered by water. Add the minced garlic, Jalapenos, rosemary, fresh basil, salt and pepper, and diced green onion to the broth. Bring broth to a boil. Turn down the heat and simmer until the chicken falls off the bone and the liquid is reduced.
Strain the Chicken broth and place in the refrigerator until the fat comes to the surface and hardens (I usually leave overnight). Remove the fat and measure the needed Chicken broth. Place the remaining broth in airtight container, label and freeze for future use.
Hot and Sour Soup
Bamboo Shoots
Remove half the Bamboo Shoots from the package and cover with water. Let soak for approximately 2 hours. Drain and refill with water and soak for another 2 hours. Repeat 1 more time, except let soak overnight.
Drain the Bamboo Shoots and cover with fresh water in a pot. Bring to a simmering boil and let boil for approximately 1 hour. Drain the water and add fresh water and repeat 2 more times.
Drain and allow to cool. Then using Kitchen Utility Scissors cut into bite size pieces and set aside.
Black Fungus
Place Black Fungus in a bowl of warm water and allow to become swollen and rubbery. For approximately 1 hour. Drain and set aside.
Removing the corn kernels from the cob 
Using a sharp knife and placing the cob in a bowl, remove the kernels of corn from the cob. Cut as close to the cob as possible and the kernels will be whole.
Marinating the Pork
Slice the pork into thin strips, approximately ¼" strips. Place in a bowl and add soy sauce, cornstarch and salt. Mix around and cover with plastic wrap. Place in the refrigerator for at least 15 minutes.
Heating up the Broth
Heat the broth to a simmering boil.  Add soy sauce, white vinegar, and salt. Bring broth to a boil.  Add bamboo shoots, black fungus (mushrooms), pork, and tofu. Bring to a boil. Turn down to simmer, cover and simmer for 5 minutes.
Making the paste
In a small bowl mix the water, cornstarch, and white pepper making a thin paste. Add to the broth, stir and bring to a rapid boil.
Note: The broth must be at a rapid boil for the next step.
Threading the Egg
Slowly pour in the egg while stirring constantly. The broth must be kept rapidly boiling in order for the egg to thread properly.
Add green onion. Turn heat back to simmer. Add rooster sauce, sesame oil, and Ruby Jewel Sweet Red Corn. Cover and simmer for an additional 5 minutes.
Enjoy!