Vietnamese Sriracha Sauce
I use fresh Fresno Peppers, but you can use Red Jalapeño Peppers too.
It's late in the fall and the red peppers are getting hard to find.  I will purchase extra and freeze them so I can make fresh sauce all through the winter.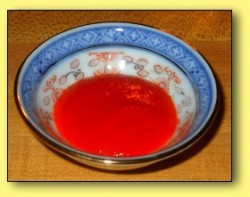 The recipe makes just approximately 1/4 cup of sauce, but it's so easy to make that you can have fresh anytime.
You can download a full version of the recipe.  Just click on the hyperlink below:
Ingredients
1/2 pound fresh red Fresno chili peppers, coarsely chopped
2 Garlic cloves
1 teaspoon Kosher Salt
1 cup White Vinegar
2 tablespoons Palm Sugar
Directions
Wash the peppers, cut in half, and take out the seeds. Quarter them and set aside in bowl.
In a saucepan, place the chopped Fresno peppers and start to heat at medium high.Add the fresh garlic, kosher salt, palm sugar, and white vinegar.
Palm sugar is actually made from the sap of a palm tree.
Bring to a rapid boil and boil for about 5 minutes, transfer to a bowl and set aside. Cool at room temperature.
Pour into a food processor and puree it for 5 minutes. If it is too thick you can add a little bit of water. Try first without water.
After you puree it for 5 minutes, you will have a thick sauce texture.
Pour sauce into a wire mesh strainer, use a wooden spoon and get as much of the liquid to go in the cup. Discard the pulp. Put sauce in an airtight container in the refrigerator overnight.
Use Sriracha sauce sparingly.  You only use a little sauce to add flavor to your favorite dishes.