The History of Vietnamese Sauces
The History of Vietnamese Sauces
My Native Texas husband loves his picante hot sauce and after learning more about the cuisine of the land of my birth, I have found the Vietnamese people are proud of the subtleties in their bowls of sauce too. Their fish sauce is their major ingredient for most of the Vietnamese dishes. The fish sauces have a slightly salty taste, but don't worry too much about that, they adjust the fish sauce in lots of different ways.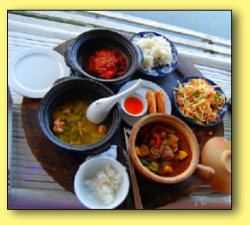 In the old days, Vietnamese meals were very frugally prepared. It was considered good to have enough cooked rice, or with yam and cassava, a starch filled root and produce from the home garden for the rest. The meal was served on a round tray usually made of wood or brass. There was always a bowl of sauce in the middle of the tray and family members often gathered having meals around it. The bowl of sauce was the center of a meal and that was back when the meal was the largest reward in a life in the hard times of the past.
Sauce isn't merely just a sauce to the Vietnamese people, it also represents the sense of community for top rated meals. The sauce is put in the middle of the tray for everybody to use, so it turns into the measure of the cook's thoughtfulness and high standards of cooking. Today, sauce becomes the main feature of Vietnamese cuisine. On the tray, the bowl of fish sauce, which is deftly prepared and looks eye-catching and appetizing, is always put in the center and plays a role as the 'spirit' of the meal.
From My Vietnamese Kitchen,
Ramona Werst
I'm Ramona Werst enjoying My family's Vietnamese Sauce Recipes…