Some of you may have already read my story called 'From Saigon to Texas'. It's a story of journey from one land to another and finally to the place of my dreams. It is a story known to immigrants coming to America from many distant shores from the Irish, to the Italians, to yes, even the Vietnamese.
Let me tell you another story of a Vietnamese immigrant whom you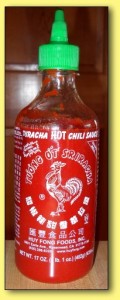 may already know through his food. Actually, it is through his spicy invention he calls Sriracha Sauce. It is the deep red, very spicy sauce you find in most Asian restuarants.
David Tran came to the USA from Vietnam in 1980 and settled in Los Angeles. He missed the spicy chili sauce of his homeland and couldn't find anything he really liked. David decided to make his own. And he did. Selling what he made at markets and from the back of his van.
Tran's story sounds very similar to Michael Dell building computers in his dorm room and selling them out of the trunk of his car. Seems entrepeneurs are just irrepressible no matter where they come from. It's in their DNA and they are compelled to create.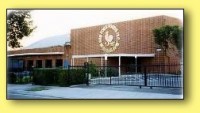 David Tran grew his business from the back of his van to a full fledged processing facility in an LA suburb and that is where the famous Srirachi sauce came into prominence. The fiery sauce was named after a traditional Asian chili sauce from the town of Si Racha, Thailand. Huy Fong Foods, Inc. sells more than 10 million bottles of the famous sauce a year now. According to the bottle, the sauce is good on everything from hot dogs and hamburgers to pastas, pizzas, and soups. It is on virtually every table in Asian restuarants.
Today, David Tran's plant is located in Rosemead, California and the sparkling food processing facility is managed by his son, William Tran. William explained that his father invented to the sauce to satisfy his own taste. That assessment is disagreed with according to one food critic who says it is the same sauce he grew up with and is nothing new.
No matter about the so called controversy, David and William Tran's sauce is a clear winner in American sauces and condiments across a wide range of tastes. It is the sauce of choice in a large majority of Asian food establishments.
Some folks call David Tran's sauce 'Rooster Sauce'. That is what I knew it by when it was mentioned in conversation. It is a staple in Vietnamese cuisine and I usually add a few drops to my family famous Pho. My native Texan husband likes to add 'Rooster Sauce' to a variety of dishes when he wants to spice things up a bit.
I'm anxious to try and make my own homemade sauce and here is the recipe I will use.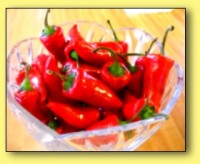 I use fresh Fresno Peppers, but you can use Red Jalapeño Peppers too.
Fresno Pepper: Bright green, changing to orange and red when fully matured. Similar to jalapeno peppers, but are higher in the heat index. Fresno peppers are available in the summer. In the fall, hotter red peppers are available.
Red Jalapeño Pepper: Green Jalapeños mature in the late summer, while red Jalapeños are not ready until the fall.
I hope you enjoy my Vietnamese Sriracha Sauce!
Here is a wonderful Sriracha Sauce cookbook:
From My Vietnamese Kitchen,
Ramona Werst
Bringing you fresh hot and spicy sauces….