Vietnamese Shrimp Spring Rolls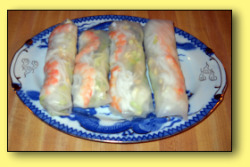 We love Vietnamese Shrimp Spring Rolls dipped in a Peanut Sauce!
There is a big difference between an Egg Roll and a Spring Roll.  An Egg Roll is fried and can have different meat ingredients ground as the filling, where a Spring Roll is fresh, and only the Shrimp and the Vermicelli is cooked.  It's like eating a fresh salad rolled up in a Rice Paper to hold it together.
Click on the hyperlink Vietnamese Shrimp Spring Rolls below for a printable recipe and directions.
Ingredients
6 medium Shrimp, cooked, peeled and deveined
1 ounce dried Rice Vermicelli, cooked as per the instructions
4 round Rice Paper Wrappers
1/4 cup Bean Sprouts, rinsed
12 small Mint leaves
8 Thai Basil leaves
4 small Cilantro sprigs
1/2 Serrano Pepper, seeds removed and sliced into matchsticks
1 Scallions, trimmed, halved, and sliced into 3" lengths
1 cup Lettuce, shredded
Peanut Sauce (Click on hyperlink for Peanut Sauce recipe)
You can purchase the Rice Paper Wrappers and have them delivered right to your door!
Directions
Pinch Thai Basil leaves from the Thai basil plant, making sure that you are pinching the leaves near the new growth. Or you can use your favorite fresh Basil. Make sure you wash and pat dry with paper towels.
Place all your prepared ingredients in separate bowls.
Place a rice sheet in warm water. Carefully remove the rice sheet out of the hot water and place it on the table, the rice sheet will tear very easily.
Take two pieces of shrimp and place it curve side down. Place a little bit of rice noodles, bean sprouts, Serrano chili pepper, green onion, shredded lettuce, scallion and Thai Basil leaves over the shrimp.
Start to wrap by rolling the ingredients in the rice paper towards the opposite end. Before you have rolled all the way to the opposite end, fold the edges in and continue to finish wrapping everything tight. (Like wrapping a burrito)
The Vietnamese Shrimp Spring Rolls are ready to be served! Serve with a small bowl of homemade Peanut Sauce to dip the Shrimp Spring Roll in.