Pei Wei Asian Diner is hosting a search for the ultimate blogger to join its chefs as they travel across Thailand, Vietnam, China, Japan and Korea on an incredible culinary journey. Chef Eric Justice and his team will search for inspiration across the five countries featured on Pei Wei's menu and the chosen blogger will share the international experience along the way.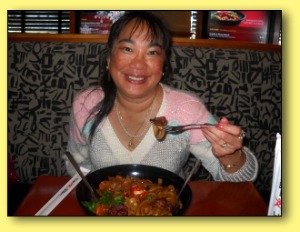 I have entered and am so excited! This is my required blog post describing my favorite Pei Wei dish.  I will be writing 4 other blog posts to submit, along with 5 pictures and 1 video.
My lifelong dream is to be able to travel back to Vietnam where I was born to be able to experience my culture. David and I have thought about being guest lecturers on a luxury cruise line like The Yachts of Seabourn, to sponsor our trip.
This contest would be a lifetime experience and would take me back to Vietnam where I could blog and share with you all my wonderful experiences.
This is my blog entry:
I'm Ramona Werst and on my quest for "The Great Asian Dish" I have discovered an Asian dish that has to be a top contender. That dish is Thai River Noodles from Pei Wei Restaurants.
I love the concept of the Pei Wei restaurant, it has a busy atmosphere and I can imagine being in the streets of any Asian country watching the street vendors prepare their meals. It's a casual restaurant, and you can actually watch the chefs prepare your meal. It's a special treat for me that a chef brings out my dish and the presentation is perfect. It's an experience of a major restaurant, yet is affordable for a quick bite to eat. But don't let the price fool you, the flavor of the dishes speak for themselves and you wouldn't know that you weren't in a 5 star restaurant!
While visiting my favorite Pei Wei, in Austin, Texas, I ordered Thai River Noodles. As I waited for my dish, I watched the Chefs as they prepared the order. Pei Wei Chefs use a special blend of dark Soy Sauces to add a special flavor to the dish.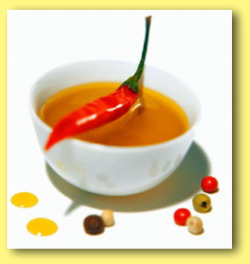 The Pei Wei Chefs know that the sauce is so important to an Asian dish as it ties a dish to a family's history. I can envision the street vendor as she would prepare the dish using her family's secret recipe for the sauce. Vendors are recognized for their sauces. You can visit several different street vendors in Asian countries and taste their condiments and each will have a slightly unique and delicious flavor even though they may call the sauces by the same names.
Many sauces use unique ingredients and all ingredients must all be used in order to acquire the different layers of flavor. That blending of flavors is what makes the sauces so delicious.
In Asian dishes, Sauces are king and the Pei Wei Chefs know this because they have obviously done their research in the various countries that make up their recipes in their restaurants. Just by cycling through the menu in your favorite location, you can virtually visit the Asian Countries of Japan, China, Thailand, Korea, and Vietnam. All have their unique flavors and sauces that make their food so interesting and appealing.
In my mind's eye, I can still see where after preparing the sauce, the street vendor in the Asian countries would slice the meat thin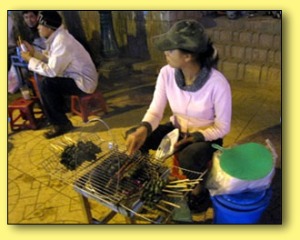 in bite size pieces, marinate in the sauce and grill in the wok. Adding thick Rice Noodles is a wonderful touch. In Asian cooking, there are different types of noodles just as there are different types of Rice. Rice Noodles are the most common and the thickness is just as unique as the dish they are being used for. I use the thinner rice noodles for my Pho (soup) and use the thicker noodles for entre dishes.
Presentation is very important to the Asian cuisine. So many chefs are talented and will carve unique designs or flowers using carrots or other vegetables. Colors are also wonderful for presentation, using green vegetables with thin slices of red peppers, or Basil leaves.
As I take the perfect bite, all the flavors dance off my taste buds and I know that I have found "The Great Asian Dish" right here in Texas. You can find your favorite dish at any Pei Wei restaurant prepared by chefs who have researched the subtleties of The Great Asian Dish and its flavors.
I'm Ramona Werst
Enjoying my virtual tour of Asian cooking anytime I want to go.