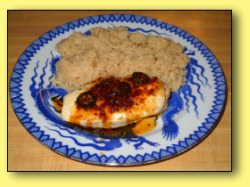 The steamed chicken with ginger sweet soy sauce is a delicious dish!  The only time consuming part was making all the sauces that went into making the Ginger Sweet Soy Sauce.  The sauces making up the Ginger Sweet Soy Sauce include sweet soy sauce and chili garlic sauce.    I could have used store bought sauces, but through my adventure of  Cooking Vietnamese Food, I am making all my sauces from scratch.
It wasn't as difficult as it sounds.  Some of the sauces, I had on hand from other recipes, and once you make the sauce it will keep in the refrigerator for up to 2 – 3 weeks.  Then the recipe itself takes hardly any time to prepare.
Once making the Sweet Soy Sauce and tasting  it, we found we prefer this flavor over the regular salty soy sauce bought in a store.  But it does contain sugar, so I assume it's fattening and not on the diabetic diet.
The Ginger Sweet Soy Sauce contains Sweet Soy Sauce and Chili Garlic Sauce.  Both of these sauces can be used on their own or in other recipes.  The Sweet Soy Sauce contains Dark Soy Sauce. That's the name of it….dark soy sauce.  I thought all Soy Sauce was dark…this particular Soy Sauce is thicker.  I didn't know that there are Soy Sauces from all the different Asian Countries!  But there are!  There is a Chinese, Japanese, Indonesian, Malaysian, Korean, Taiwanese, Vietnamese, and Philippine Soy Sauces. We usually only see Kikkoman in the regular grocery store.  Did you know that Soy Sauce contains  10 times the antioxidants of red wine, but probably won't be used as much as red wine.
The Chili Garlic Sauce was really interesting to make and you will want to make sure you wear gloves when handling the chili's and the liquid from soaking the chili's.  Don't think that this is going to be too hot…you control the heat…just pick out the mild dried chili's.  We found the chili's (dried red chili peppers and ancho chilies) in the grocery store in the produce section loose in bins.  I just keep them on hand and store in a Ziplock bag.
Then when you put these other sauces together with the remaining ingredients for the Ginger Sweet Soy Sauce, you have a totally different new sauce!
This dish didn't contain any exotic ingredients, just mixing and using different sauces together to create one delicious sauce.  Remember I told you that the Vietnamese cooks layer flavors…don't leave out any of the ingredients or you will surely miss a delicious layer of flavor!
The only part that we questioned was the steamed chicken.  I was afraid it would not be flavorful, and would be really dull.  I wasn't thinking about the sauce going on top.  Just to be sure, I sprinkled the chicken breasts with a little salt and pepper seasoning.  I probably won't add the salt and pepper seasoning next time, since the chicken is so juicy and the sauce is so delicious.
I love making rice in my rice steamer, and replacing the water with homemade chicken stock changed the rice some and made it really great too.  I will share my homemade chicken stock recipe in a later article, since I roast the chicken legs before making the broth which adds to the time.  If you don't have a rice steamer yet, you're missing out on a handy kitchen gadget!  You don't have to search for an expensive Rice Steamer, and this one can be delivered right to your door!
I hope you enjoy my:
From my Vietnamese Kitchen,
Ramona Werst