Vietnamese Fish Sauce "nước mắm"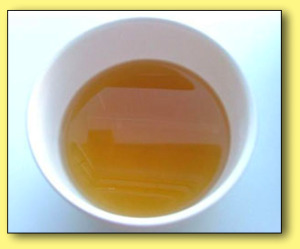 Among all kinds of Vietnamese sauces, the most famous and the most popular must be fish sauce, which in Vietnamese name is "nước mắm".  This Vietnamese fish sauce is so famous that foreign books and newspapers especially cooking books written in English or French, verbatim use the term " sauce nuoc mam ", not " fish sauce " or " la saumure " any more.  It has made a name for itself.
Here's a little history:  Vietnam has a coastline which stretches over 1900 miles. Therefore, Vietnamese fish sauce with the specific and well-known saltiness and smell is popular and irreplaceable.  Also, thanks to the preferential treatment from nature, Vietnam has plentiful sources from the sea so the local residents can process sauce from shrimp, sauce from squid, sauce from freshwater crab, and even sauce from fat-full crabs.  Whatever it is made from, the most common taste of Vietnamese people is its unique saltiness, so Vietnamese fish sauce is always strongly delicious.
And my westernized palate does not find the "fishiness" unattractive. Of course, you don't use it straight. You are always adding some amazing ingredient to make it blend just right. So far, I've only used the 'primo' stuff (nuoc mam nhi), so why would I ever venture out into other brands.
We can add many ingredients to the fish sauce, to create a specific taste for each dish. I absolutely love to create the many different and delicious homemade varieties of sauces. Yes, you can buy a lot of the sauces at Asian Markets here in the USA, but why not try to make yours from scratch?    The Vietnamese are masters at making and using their dipping sauces.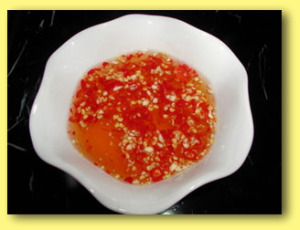 Here is an example of how the Vietnamese combine a lot of the ingredients. The fish sauce can be diluted with a little boiling water. Add a little sourness of dainty rice vinegar, the sweetness of sugar, the pungency of garlic, the aroma of black pepper, spotted with some slices of spicy Serrano peppers, combined with carrots or a bit lemon.
It is all blended in a bowl of fish sauce, which is apricot yellow like honey with the distinctive  taste and it can't be confused among other Vietnamese sauces.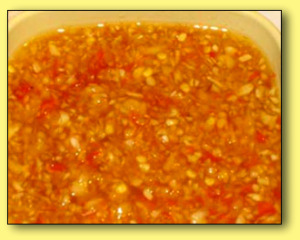 The taste and ingredients of fish sauce are carefully selected so they have complementary effects to increase tastes and limit some side effects from the dishes. If you remember, I have talked some in the past about Vietnamese cooking complementing each ingredient. Fish sauce must be mixed with lemon, garlic, finely-chopped chile peppers (I often use Serrano) and ginger when we eat duck or seafood. Ginger can warm up our stomach and support our digestion because duck and seafood are naturally cold and stodgy. Yes, that is the way they have learned to think about pairing foods and sauces that has been learned over the many years of past Vietnamese cooking.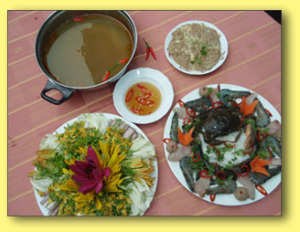 Sour soup must go with pure fish sauce added to some sliced peppers. The saltiness of pure fish sauce and the light pungency of peppers will attractively match with the sourness of soup and the sweetness of fish or seafood.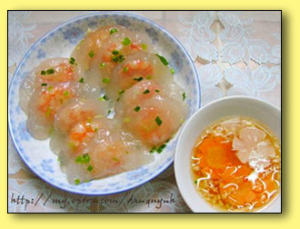 Spring rolls and baked meat rolls are eaten with fish sauce added to peppers and lemon. Lemon can't be directly squeezed into fish sauce, its pulp and juice must be separated. Depending on the taste, we can either add the pulp or take it out from fish sauce which can make the dish more sweet-smelling but less sour. Finely-filtered tapioca dumplings are eaten with pure fish sauce. We use a teaspoon to brush peppers in the pure fish sauce and then squeeze some lemon into it. If the taste of fish sauce is too acrid, we can add  some water and sugar as preferred.  I often thought of the 'Spoonful of sugar makes the medicine go down' song when I was making some of the unique dipping sauces.  I'll bet my unknown Vietnamese grandmothers never heard that song!
Unlike Chinese-style plum sauce, Japanese-style wasabi or my Texas husband's good old ketchup or barbeque sauce, Vietnamese mixed fish sauce seems to express the philosophy of life, so it has enough the sourness, pungency, saltiness, and sweetness….as in life?
The taste of fish sauce is salty but flavorful, and very sophisticated, ceremonious, popular, but greatly delicate. How's that for a description. That description sounds like it was written by a 'wine snob'. Maybe I'll become a "sauce snob."
The aftertaste seems to deeply pervade the memory and sentiment of any Vietnamese people wherever they are. Though the drop of fish sauce is tiny, its great flavor is really a part of the spirit of the country, of the people. It itself is the flavor of the home country in fadeless memory of every Vietnamese person far away, wherever they live from Austin to Australia.
From My Vietnamese Kitchen,
Ramona Werst
Gotta Love Vietnamese Fish Sauce "nước mắm"….