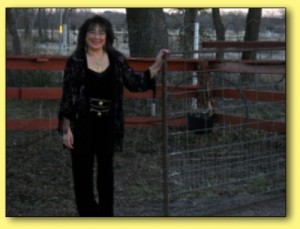 Passport to Asia event was sponsored by Volunteer Services Council for the San Angelo State Supported Living Center.  David and I were excited to be able to attend to sample Asian dishes.  Since I have been cooking Vietnamese food, we were anxious to possible sample some Vietnamese food.  Later I found out that they were representing East Asia, Vietnam is South East Asia.  Well we'd still enjoy Asian cooking!
The event was a semi formal event.  Yippie we could dress up and leave the Sherwood Ranch.  We don't dress up much anymore, since we love staying on the Sherwood Ranch working on all of our blogs.  Besides David loves my different range of cooking from Real Texas Recipes, Basil Recipes and now Vietnamese Recipes!  Every once in awhile I cook just plain old food too.
When we arrived, we found that our table was along the back side wall.  In the newspaper ad the places you could purchase tickets were listed and we supported one of our favorite stores, Mr. Boots.  Guess you had to purchase tickets direct from the sponsor to get a better table.  I think we had the best seats in the room!  We were seated right next to one of the doors that lead right to the serving line, that means we'll be the first one out the door and in line.  We also ended up sitting with some long time friends too.  It couldn't have turned out better.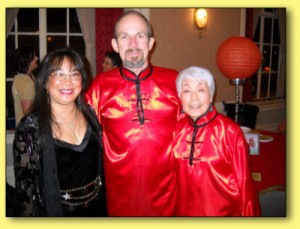 The evening event started with a performance by Tai Chi Concho performing the Ancient Art of Tai Chi.
Pictured, Ramona Werst of Cooking Vietnamese Food.com, Steven Haidinger and Terri Hamer of Tai Chi Concho.
They looked so relaxed and the movements stretched every muscle in their bodies.  It has to be really good for you because there was a performer that is 75 young and did not look or act old at all.
Tai Chi Concho
Next we enjoyed sampling several dishes and they were really unique and delicious.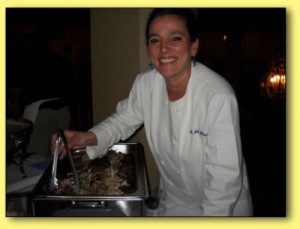 Chef Liz Mathews, has over 20 years experience in the front of the house including a general manager's position at a posh New York restaurant.   She married JR and who worked in a funky restaurant called New World Home Cooking that specialized in home cooked dishes from around the world and they quickly developed a love for this style of cuisine which is reflected in their cooking today.
They have been very successful and have added new dimensions to the dining experience at the Chicken Farm Art Center at the Silo House.
Chef Liz Mathews showcased Asian Crusted Beef Tenderloin with Sweet Chili Dipping Sauce; Sweet Wontons; and Chocolate Dipped Fortune Cookies.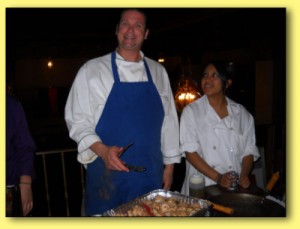 Chef Jason Helfer, is the co-owner and proprietor of the Peasant Village Restaurant that offers extraordinary cuisine.
In 1995 he and his dad opened Peasant Village Restaurant.  Jason was listed as one of the Top Twelve Chefs in Southern Living Magazine in 1998 and in 2005.  The Peasant Village Restaurant has been featured in Texas Highways Magazine and they were filmed and highlighted on the Texas Country Reporter program.
Chef Jason Helfer showcased Asian Five Spice Shrimp marinated with 5 wonderful different spices.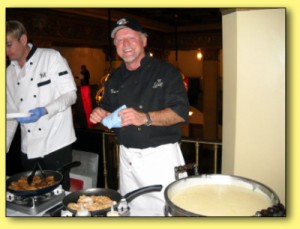 Chef Henry Wiens is the Executive Chef/Food Service Director at San Angelo Community Medical Center.  He is also a Chef consultant for Quorum Human Resource Group and advised food service operations around the country.  Chef Wiens has taught at various culinary programs for upcoming culinarians and has taped over 100 cooking shows for major networks in West Texas.
Chef Henry Wiens showcased Macadamia Nut Crusted Polynesian Pork; Jasmine Coconut Rice; Almond Cookie dipped in White Chocolate with Raspberry Dip.
These were just a few of the Chefs showcasing their Asian Dishes.  We didn't stay for the dancing, after eating we were ready to retire.  Guess the excitement of attending a Semi Formal event and the fact that it was already nine o'clock, tuckered us out.  Life on the Sherwood Ranch starts early and ends early.
I hope San Angelo brings more Asian events to town, but if we have to travel to attend we will.  David thinks that I'm entertainment enough in the kitchen Cooking Vietnamese Food.
From my Vietnamese Kitchen,
Ramona Werst