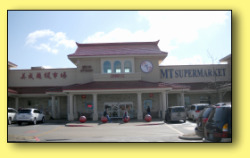 Wow! I don't know how to describe this hugh Real Asian Market. David took me to MT Asian Supermarket in Austin, Texas.
We went down every aisle and took our time looking at all the unusual items this Asian supermarket had to offer.  It was like being a child in Willie Wonka's Chocolate Factory.
The first section we wandered through had boxes and boxes of Rice Noodles…thin ones, to super thick noodles…rice paper wrappers and more rice noodle products.  I grabbed one of each of the different kinds of noodles…they won't spoil and I know I will come up with recipes to use them in.
Next we went down the Rice section.  I didn't know there are different kinds of Jasmine Rice from Thailand.  They are from all different parts of Thailand.  It's a long grain of rice and the grains will cling when cooked even though it's less sticky than other varieties of rice.  Thai Hom Mali rice is indigenous to Thailand. In the past, it has been variously labeled as "fragrant rice", "jasmine rice", "aromatic rice" or "scented rice". This variety of rice can only be grown in the hot, sunny climates of Southeast Asia.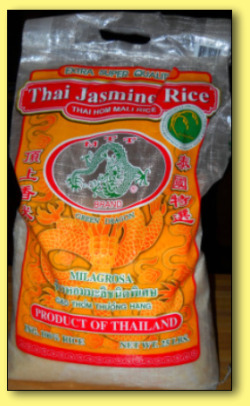 Thai Hom Mali Rice is a traditional strain of rice which originated from a small village in central Thailand called Bang Klar. In the early 1970s, co-operation between the private and government sectors, seeking alternative rice varieties for export, resulted in Thai Hom Mali Rice being planted in the Northeastern Region. the result were excellent and today the Northeastern Region produces the finest quality Thai Hom Mali Rice.
It is also very nutritious. Thai Hom Mali Rice is a high fibre grain containing vitamins B1, B2, Niacin, Carbohydrate and protein. It is also rich in minerals such as Iron, Calcium and Phosphorous.
Thailand is the top rice exporting country in the world, averaging 6 million tons a year, about a quarter of which is Thai Hom Mali.
This is the brand that I use.  I am trying to research the premium brands of ingredients to use for my Vietnamese Cooking and will share why I have chosen certain brands.
Next, we took a trip into the produce section.  I found Bok Choy,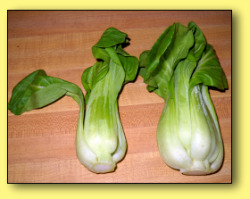 an ingredient that I have been looking for so I can now make Beef with Bok Choy.  It's actually a Chinese cabbage, and it's so cute.  It looks like little fat celery bunches.
I also found the best fresh Ginger that I have ever seen.  I've only read about how the skin needs to be thin and the Ginger needs to be plump and young.  I've only been able to find Ginger that the skin looks like tough elephant skin.  I can't wait to use my new Ginger.  I bought a big Ginger Root.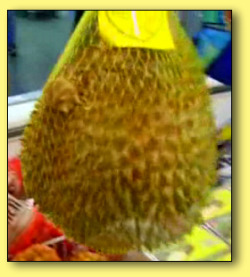 There was a very strange looking fruit called Durian Fruit.  It really looked dangerous.  It had really sharp spines and looked like a large blow fish body.  Some people regard the durian as fragrant; others find the aroma overpowering and offensive. The smell evokes reactions from deep appreciation to intense disgust. The odor has led to the fruit's banishment from certain hotels and public transportation in southeast Asia.  Those spines are hard and very sharp.  I don't think I even want to get near this fruit!
I found all different kinds of frozen Rice Noodles for my Pho.  I was really happy to find the brand that I like.  I have found that the frozen Rice Noodles are better in my homemade Pho than the dried ones.  They seem to be fresher and as close to homemade as they can be.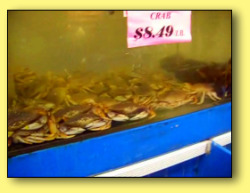 Right next to me are poor live Lobsters, and Dungeness Crabs, (I will show you the proper way to fix the best tasting Dungeness Crab that you have ever tasted! It will be like when Julia Childs completed her French cooking, she mastered stuffing a Duck!) and live Catfish.
We decided to go down another canned food aisle.  This aisle had all different kinds of sauces.  I make most of my sauces homemade, but it was interesting to see every kind of sauce makings in jars and cans.  There were even fish sauces where I think they forgot to remove the fish!  There were also lots of pickled stuff.  From pickled Lotus, to pickled lettuce…strange.
This was the most fun I've had since my discovery of Central Market and Whole Foods!  I came home will all kinds of new ingredients and am having a blast cooking new Vietnamese Dishes.
I hope you enjoy this video of my first experience in a hugh Asian Market.
From My Vietnamese Kitchen,
Ramona Werst

Taking you to new and interesting places…