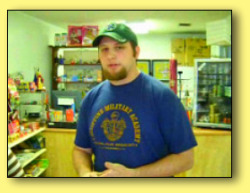 After spending so much time in Eggemeyers, it was time to find an Asian Grocery Store.  I had heard that there was a small one from the Vietnamese lady that used to do my nails. She and her co-workers think it is so odd that I don't speak the language.  They just chatter away and expect me to join in the conversation, but to me it is "no comprende."
I Googled Asian Market in the city nearest to our Sherwood Ranch and I found 2!  The first one we searched for we found that it no longer existed; It was now a pre-school.  I was really hoping the only other chance I had would still be there. We found it, Mama Nida's Asian Market.  When we went inside I was so excited…it was small, but every shelf was loaded with goods….I started reading labels, but didn't know where to begin.  I started asking the owner if they had this and that.  I finally asked him if they carried Rice flour, but it had to be from Thailand.
There are different kinds of Rice flour….the Rice flour that I was looking for wasn't the sweet sticky rice flour.  Rice flour is the starch in Vietnamese cooking.  It's made from short-grain rice and is used to make sweet and savory noodles, crepes, dumplings and cakes.  I didn't want the generic rice flour used in baking.
He smiled and asked what recipe I was going to make so he could steer me in the right direction.
There was just so much I didn't know. I did not know that there were different flours, and rices, and rice papers. When I told him about how I read there were different grades of fish sauce, he immediately said that they only carry the primo grade! Whoops, a little West Texas/Arizona Mexican lingo jumped out there. It's my only other language.
So after looking around I decided this is going to be my store. We all have to start somewhere and we are off to such a great start even in this very small Asian market. I ended up getting a few more items than what was on my list, but the items all just sounded like they would be something I just had to have in my new Asian pantry.
I spent a lot of time asking questions and going over my list. He kept asking what I would be using the ingredient for, and I didn't know, I just knew that it was an essential ingredient, and would tell him the style my books said I should get.
I found that there is a regular, sweet, and hot bean sauce. This was going to go in my Chili Garlic Paste. Hmmmm…David and I like our food hot and spicy. That's a sign of great Mexican food. So why not, it makes sense that I would choose the hot bean sauce.
My books said that I needed only the translucent rice papers not the cloudy or white ones. There are round and square rice papers….hmmmm I was going to use these to make Shrimp Spring Rolls. My only experience was in making a burrito, but a tortilla is round, but wouldn't it be easier if it were square? So, I got both shapes for my Vietnamese Spring Rolls, we'll do a comparison to see which is easier.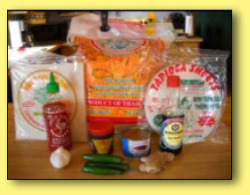 There are dried rice noodles and there are fresh frozen ones.  That was a no brainer, I got both!  I was really leaning towards the frozen noodles because it just seemed fresher.  But I wasn't sure if they would fall apart, and I really wanted to try the recipes as close as I could the first time and them adjust them and experiment with them later.
Then my biggest question for my Asian Market folks was what kind of rice do they suggest for steamed rice?  This was the test…I wanted to get as close to the delicious steamed rice that you get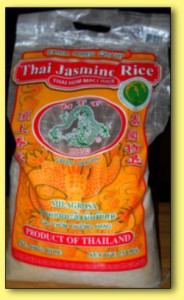 in the finer restaurants, kind of like my search for the perfect oatmeal.  I loved eating oatmeal every morning when we vacation on the cruise ships, but couldn't duplicate it's creaminess.  Same with steamed rice.  As a young cook, I would just put double the amount of rice that I would use in  water in a pot and add the rice, put the lid on, bring to a boil and then turn down and simmer until it was puffy.  That was kind of dry compared to the finer restaurants.  They told me to use Jasmine Rice but only from Thailand.  Okay, so I bought a 25 lb bag!  Rice keeps as long as you have in an airtight container or in the refrigerator.  David laughed because I couldn't just buy a little bag to try.  I told him, it's more expensive to buy a little bag, and when I already know that I'm going to love this rice why not get the big bag, when I already knew we'd be eating a lot of steamed rice.
Now, to H.E.B., my favorite grocery chain, for the fresh produce.  I got everything on my list and only had to replace one ingredient.  I couldn't find the Thai bird chilies, but the recipe said that it could be replaced with serrano chilies. You can't buy a lot of fresh produce all at one time because you only use small amounts in your recipes and you always want to use the freshest of ingredients.  You really don't want to freeze the ingredients either because they won't be crisp, they will tend to be soggy.  So now we will have to come to town more often to get fresh ingredients.
It was too late when we got home to try to tackle a new recipe, so I will get a fresh start in the morning.  I can't wait….now to sleep…come on sleep…but only so I can wake up tomorrow and get started sooner.
From my Vietnamese Kitchen,
I'm Ramona Werst
A-n-t-i-c-i-p-a-t-i-o-n……