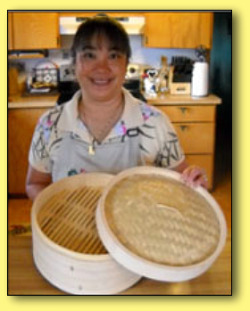 I'm ready and excited to use my newly purchased Bamboo Steamer! I can almost taste the steamed rice. Okay, what do I do first and how long will the rice take to steam before I can eat a BIG bowl of it?
I opened the package to see what the instructions said about how to use my new bamboo steamer. Uh, oh! The instructions really don't say much. I don't see how this will work because the holes in the sections look like the rice will fall through. Am I missing a piece? Well, I guess I will research on the internet how to steam rice in a bamboo steamer. Should I try Googling it, searching YouTube or eHow?
I finally settled on eHow, there was a step by step guide kinda showing what to do. It's really not too clear, but I get the gist, so here goes.
The first step was to dampen a dish towel….a what? My dish towels are thick and I don't want to ruin them. I looked around and found the perfect cloth. Actually, it was the white pieces of cloth like a thin t-shirt from a box of rags. It's like the box of rags you get from a home improvement center and it has all sizes and pieces of white cloth. I washed the rag in hot water, no soap and didn't put in the dryer. Now am I ready? I dampened the cloth and stretched it across the bottom of the top section.
I got so excited that I forgot to read the instructions about the rice. Shoot, I need to wash the rice until the water goes through clear, and then soak it for at least 2 hours….some recipes say overnight! I'm so hungry for the rice now! I want to do this correctly so I will soak the rice and wait.
The directions don't really say how to use the bamboo steamer, but they do say if you are using a wok, to put enough water in the wok and set the bamboo steamer in the wok making sure it is not submerged in the water. My wok isn't very deep and it doesn't look like there will be enough water to steam. Another set of directions say to find a pot or a kettle with 2 handles to rest the bamboo steamer on. That makes more sense because you can put more water in the pot.
I should have researched this more….In a catalog that sells Bamboo Steamers, there is also a device that fits on top of the pot that funnels the steam into the entire bamboo steamer….and for the wok, I found that some woks have a grill or a shelf that the bamboo steamer sits on. Why doesn't anyone say this? I found this little bit of important information out after I rigged up my pot for my bamboo steamer.
Here is the handy little gadget! It's called a Steaming Ring for turning a large saucepan or stockpot into a steamer.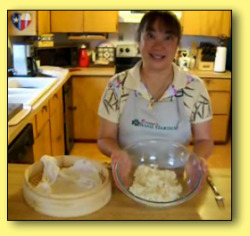 So now you know too. Giving insider tips is a big part of this blog and you'll get lots more when I lanuch my membership site later on.  Stay tuned on that.  It's a ways off yet.
Soak, soak, soak, soak…….The rice has finally soaked for 2 hours and now I'm ready to try my boiling pot of water idea for the bamboo steamer.  So back to dampening the bottom cloth. (keep in mind that you will need two pieces of cloth) Spread the first piece of cloth tight over the bottom of the top section of the bamboo steamer.  Drain the water from the rice that you had soaking and spread only the rice over the cloth.  Dampen a larger second piece cloth and drape it over the bamboo steamer section, place the lid on and clip the ends on top of the lid of the steamer.  Boy, I'm glad they told me to clip the overhang, or else it would catch fire on the burner….
You need to make sure you check the boiling water and if it is getting low, add more boiling water.  No one tells you why to add boiling water to the pot, but I have just learned from a famous pinto bean recipe that you don't want to add cold water to the boiling water.  With the beans it stops the cooking process and will make the beans tough if you add cold water to boiling water.  Makes sense that it would do the same with the steam to the rice right?  Just a theory.  You need to make sure there is enough water in the pot or you will not only burn up the pot and smoke up the kitchen, but the rice will taste terrible.
I was researching what kind of towels to use, I really didn't want to use my dish towels or rags.  I found that there is a parchment paper cut to size that you can order online.  Well, that's a good idea, but I found even a better one.  Someone sent an email to David with 25 uses for coffee filters…coffee filters can be used for everything!  A coffee filter fits in the Bamboo Steamer, allows the steam to go through it without allowing the rice to fall through!  So I put a coffee filter on the bottom and dampen one for the top!  If your coffee filter is smaller than your Bamboo Steamer, just make sure you don't allow the rice to go over the edges.
So now you know too.  Giving insider tips is a big part of this blog and you'll get lots more when I lanuch my membership site later on.  Stay tuned on that.  It's a ways off yet.
Did I tell you that I love the moist, tasty rice served in restaurants? After 15 minutes, I checked the rice and tasted just a little bite. It was still tough and dry. Must not be done, so I need to cook another 15 minutes. I checked again and it's still tough and dry. Maybe another 15 minutes will work. It's a little chewier but still dry. It must be done. Well as you can see in the video, I went with it, but I'm going to find a rice steamer. A computerized one that all you do is push a button and when it's finished you have delicious rice.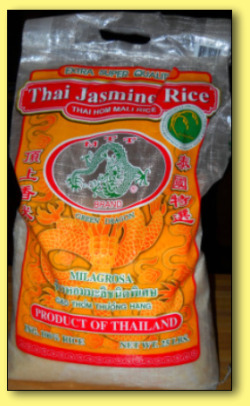 Here's the funny ending to this story. I needed more rice, so I went back to Mama Nida's. I thought I'd mention my bamboo steamer rice. They smiled and asked me what kind of rice did I use. I told them it was the sticky rice that I had bought from them. They both laughed and told me that's how sticky rice is supposed to be so it will hold together! I asked what kind of rice I should be cooking and they both said Jasmine Rice! I remembered reading somewhere that if you select Jasmine Rice it needs to be from Thailand. Ah, so that's the solution. So I bought a 25 lb bag of Jasmine Rice from Thailand! I'm still going to find a computerized Rice Steamer.
I walked out to the car with Jason carrying my bag of rice and David started laughing! He couldn't believe that I bought such a large bag of rice! He knows I love rice, it's in my blood….he'll be eating a lot of rice now too!
It's an inside joke between us…whenever I like something I get extra. Makes sense to me, I don't want to run out. Like when I was picking out our dining room table, I didn't get pick out a table for 4 or 6 chairs. I had to have one made for 8 chairs. It is made out of wood and marble with the Texas Star. Poor David he had to get it up a flight of stairs into our dining room!
So is it as easy as that, or are you ready to find a Rice Steamer? I hope you enjoy the videos on Steaming Rice in a Bamboo Steamer. Tip: Use Jasmine Rice! I sure will……next time.
From my Vietnamese Kitchen,
I'm Ramona Werst
Learning to be a Vietnamese….cook!