A light bulb came on today! I understand what makes the perfect rice, STEAM! Let me explain…When I was growing up we made white rice, just plain old white rice in a pot on the stove. You put a cup of water into a small pot, added 1/2 cup of plain old white rice. Brought it to a boil, put the lid on, then turned down to simmer and cooked for approximately 20 minutes. You didn't take off the lid for at least 20 minutes. Then you used a fork to fluff up a little and tasted to make sure it was cooked. Pretty dull. My parents were on a bland diet…a broiled hamburger patty, 1/2 cup white rice, and 1 cup green beans. My dad could eat this 7 days a week. It was just filler food to me.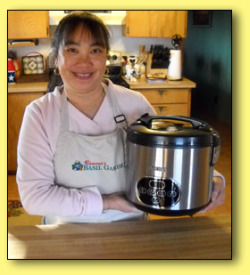 We did go to Chinese restaurants and I could eat a whole big bowl of rice myself! It was so moist, and had a totally different flavor to it. All these years, I went back to making just plain old rice, I just couldn't figure out how they did it. Until recently, we went into a Vietnamese restaurant and the rice was to die for! I got brave and asked what kind of rice they used and they told me Jasmine. Wow, I had to get some Jasmine rice and I could have the perfect rice. It's really hard to come by. In the grocery store they have 1 brand in a smaller package and it's a little more expensive. But I just had to try it.
I cooked it the same way that I knew how to make my rice. Hmmmm…it was a little better, but not quite like the restaurants. You've read my bright idea in trying to steam rice in a bamboo steamer, using the wrong kind of rice and drying it out. And you remember when I told you that there different kinds of Fish Sauce, there are also different kinds of Jasmine Rice. I have read and have been told that you want the Jasmine Rice from Thailand.
So now what do I do? I Google, How to Steam Rice! There were lots of different instructions on how to steam rice, but what caught my eye was the Google Ads in the sidebar….they were for different kinds of Rice Steamers. Oh, my gosh, they have a cooking gadget just for rice? So I started to research Rice Steamers. I found Rice Steamers ranging from $14.95 to $499.00. Well the most expensive one must be the best and I bet I can find it on eBay for less. I started reading about this Rice Steamer, the brand was Sanyo…it was computerized and from what I read about it, it steamed every kind of rice! You could make any amount and just push a button and the Steamer knew when to turn the rice to warm and it would be ready! Wow! I did my research on eBay and found this Sanyo Rice Steamer for only $199.00 now that's a bargain.
David wanted to shop around and see one in a store…but David, the eBay auction ends tonight! So we went into San Angelo….We went to Eggemeyers, Sugarbakers (a kitchen gadget specialty store), and I was really getting discouraged because they were sold out. You see it was right after the Christmas season and I guess all the husbands bought their wives Rice Steamers! Next we went to the mall and went to Dillards, I couldn't find the Sanyo, but then we hit the jackpot. Did you know that all the private label Chefs with their own line of pots and pans has a Rice Steamer? Now what? I had my iPhone with me so I looked up the specs for the Sanyo Rice Steamer, none of the others really were the same. But wait a minute, there in the corner, I saw an Aroma Rice Steamer! It was computerized and showed White Rice/Brown Rice/Steam Cook/Delay Timer/ and Warm! I found the same specs as the Sanyo Rice Steamer! The best part was that David was so happy because it was only $49.00!
You can order it now!
I couldn't wait to get it home and make my Perfect Steamed Rice! I took it out of the box, and started to read the recipe instruction book. We'd have to wait another 30 minutes because you need to soak the rice. I added the water and the rice, closed the lid and pushed the button! When the light switched to Warm, we couldn't wait. I opened the lid and there it was the Perfect Steamed Rice!
Since then I have really gotten creative. I have made the Perfect Cruise Ship Oatmeal. This was another secret that I just couldn't figure out. I loved the creamy oatmeal on the Cruise Ship that I ate every morning. I asked the Chef what kind of oatmeal he used and it was just the regular oatmeal, not the quick cooked kind. Mine never turned out creamy, until I tried it in my Rice Steamer. Vegetables are so crisp, and I have even made some Vietnamese recipes that need to be steamed. I don't mind giving up counter space to have my Rice Steamer handy to use all the time!